O'Loughlin And Kim Are Hawaii Five-O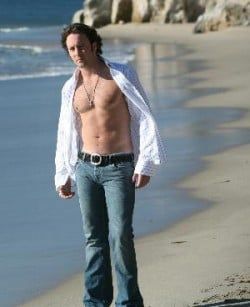 CBS is looking to set up camp in Hawaii just as Lost is leaving. But it's okay, because they're keeping a familiar face around. Daniel Dae Kim has been cast alongside Alex O'Loughlin in the network's remake of Hawaii Five-O, according to The Hollywood Reporter. The good news is that Five-O is a procedural action-crime drama, and CBS fans simply love those. If they named it CSI: Hawaii, it'd be a guaranteed hit, but I guess the network is feeling like taking some real risks next season.
They also seem bound and determined to make a star out of O'Loughlin. He starred in the short-lived vampire series Moonlight, which appears to have been just ahead of that particular craze, and failed again on this season's Three Rivers. Will the third time be the charm, or will Five-O sink?
O'Loughlin is certainly a likable enough fellow, and it's my understanding that he's rather easy on the eyes. The same can be said for Mr. Kim, who's been steaming up the islands already for more than five years now. With Lost wrapping this season, there's already going to be plenty of television equipment and space just lying around begging to be used for television. Rather than ship it all back to the mainland, perhaps ABC Studios would be willing to sell it to the production company behind the new Five-O.
And perhaps we'll be seeing the return of the action drama, after years of the more mundane and cerebral crime procedurals. This season, we've got FOX with both 24 and Human Target bringing the action, but other than that it's been a dry well for a long time. How long before we get Spencer for Hire, CHiPs and MacGuyver back in action as well?
Your Daily Blend of Entertainment News
Your Daily Blend of Entertainment News
Thank you for signing up to CinemaBlend. You will receive a verification email shortly.
There was a problem. Please refresh the page and try again.