The Office Preview: Will Ferrell's DeAngelo Vickers Meets The Dunder Mifflin Staff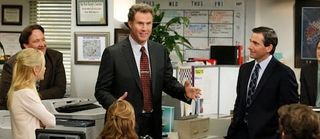 It was another rerun for The Office tonight, but next Thursday the series returns with a new episode and the first appearance by Will Ferrell. Check out these clips to see how the staff at Dunder Mifflin reacts to DeAngelo Vickers.
As interesting and potentially great as Ferrell's character may be on the show, I think I'm more excited to see how the regular characters are with whatever quirks Ferrell brings to his role as DeAngelo Vickers. We get a glimpse of that in these clips from the "Training Day" episode, which airs next Thursday (April 14th).
The Office airs on Thursday nights at 9:00 p.m. ET on NBC.
Your Daily Blend of Entertainment News
Thank you for signing up to CinemaBlend. You will receive a verification email shortly.
There was a problem. Please refresh the page and try again.