The Office Season 8 Watch: Episode 2 - The Incentive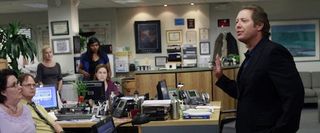 Like last week's, tonight's episode of The Office gives me hope that there's still plenty of heart left in this series, even in the absence of Michael Scott. And, after a day of drooling over Amazon's new Kindle devices, I've now decided that I want a Sabre Pyramid tablet, especially if it mean's everything I do on it will appear in the shape of a triangle.
Incentives
After Robert California challenged the staff to double their sales, Andy was left to see the mission through. His decision to offer a table of prizes as incentives for increased sales might have worked if he were trying to motivate a bunch of grade schoolers into selling candy bars or magazines, but the stakes are going to need to be a little bit higher if he wants to get his staff to sell paper (and ridiculous, bulky, triangle-shaped tablets). Of course, Andy soon realized this and offered to get a tattoo of the winner's choosing on his hind-quarters. Since he told them earlier they could pool their prize points, this motivated the staff to throw every ounce of their energy into boosting sales with the goal of combining the points and winning Andy a tattoo.
Turning Andy's program against him was the staff's true incentive, and they pulled it off, resulting in a trip to the tattoo parlor, after everyone agreed on the tattoo. "I'm not as think as you drunk I am," might have worked, as would "Do not resuscitate," which was another option on the table, but it sounded like everyone settled on something Phyllis picked out, which couldn't be shown to the cameras. The whole staff left for the tattoo parlor and waited while Andy prepared to get inked.
Panicking, Andy stepped out of the parlor and had a heart to heart with Jim, who told his new boss that no one really expected him to get the tattoo. That only served to motivate Andy to live up to his promise. When he went back inside, he announced that he was going to get the tattoo, prompting Pam to make some last minute design changes to whatever it was they had picked out. Andy's "Nard Dog" tattoo couldn't have been more perfect. It was not only merciful of the staff to brand him with his own nickname, but Andy seemed genuinely touched by it.
Like last week, tonight's episode played out similarly to how I think things would have gone down if Michael was still working at DM-S, and while I think Michael would've gone through with the tattoo too, that doesn't diminish Andy's demonstration of leadership or the decidedly Andy way in which it all played out.
Other random moments...
Darryl appears to be back together with his ex-wife Justine. I'm not sure where this is going other than a lot of bragging on Darryl's part for how great the physical side of the relationship is.
Meanwhile, Kevin started the episode off by talking like Cookie Monster, using as few words as possible when speaking in an effort to save time. It didn't catch on and he was convinced to revert back to his usual style of low/slow-talking. Like Jim, I'm still not entirely sure if he was saying he wanted to see the world, or visit Sea World.
Pam and Angela continue to bond over their pregnancies, which tonight meant Angela awkwardly inviting Pam into taking frequent walks together because a pregnancy magazine advised it. The brief conversation had the tone of Angela guilting Pam into agreeing to do it, not so much by what she said of the article, but by how she said it. Angela's always been good at lacing her comments with a twinge of judgment. How could Pam say no?
And that about raps it up. Once again, we got a simple episode with a premise that, while not entirely realistic, did celebrate the challenges of being a newly-promoted leader and helped Andy demonstrate his commitment to his new position. Once again the Nard Dog "nailed it."
For those of you interested in hearing what Paul Lieberstein and Ed Helms had to tell us about Andy's promotion, the upcoming Halloween episode, Andy's relationship with Erin, and Josh Groban's guest appearance, click here.
Kelly joined CinemaBlend as a freelance TV news writer in 2006 and went on to serve as the site's TV Editor before moving over to other roles on the site. At present, she's an Assistant Managing Editor who spends much of her time brainstorming and editing feature content on the site.
Your Daily Blend of Entertainment News
Thank you for signing up to CinemaBlend. You will receive a verification email shortly.
There was a problem. Please refresh the page and try again.