One Walking Dead Star Got Bitten By A Fan In Real Life, Get The Details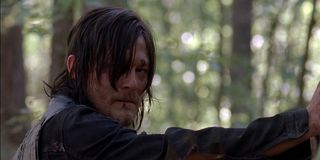 One of the most popular characters on AMC's The Walking Dead is definitely Daryl Dixon. He's had a rough ride of it over the last couple of years, but he's managed to avoid being bitten by any zombies. Sadly, the same can no longer be said for actor Norman Reedus, as his recent appearance at a convention resulted in an enthusiastic fan going for a chomp.
Daryl Dixon shot Norman Reedus to a level of fame that has resulted in a lot of weirdness. Still, this incident is a whole new level of weird. Undead Walking reports that a fan at Walker Stalker Con used her photo opportunity with Reedus and fellow actor Michael Rooker to take a bite out of the man behind The Walking Dead favorite. The encounter resulted in the fan being banned from all future Walker Stalker conventions as well as losing the photo opportunities she had left.
Of course, Norman Reedus can be pretty unabashedly bizarre himself, but it's a shame that he had such a bad experience at the latest convention. Reedus has always made himself available to fans all over the world, and one taking advantage of that availability to bite him doesn't reflect well on her fellow fans. Sure, a woman who readily admits to pretending to be married to him and then bites him is kind of an outlier to the rest of the Walking Dead audience, but that kind of behavior can't be encouraging to any actor who goes out of his way to interact with fans. There's over-the-top enthusiasm for a celebrity, and then there's just plain crazy. (Hopefully, Reedus was considerably cleaner than Daryl usually is in a given episode)
Perhaps Reedus himself won't be too bummed when remembering this unfortunate incident. He's not exactly starved for work, so attending fan conventions to take photos and sign autographs is something that he goes out of his way to do for Walking Dead enthusiasts. Still being bitten surely won't make him more enthusiastic for giving such opportunities.
The woman who did the actual biting might want to use more discretion in trying to attract celebrities' attention. She did show some remorse for the incident once she had the chance to cool down, taking to social media to apologize for her excitement getting the best of her. Still, if she was going to channel the behavior of any of the Walking Dead characters in her enthusiasm for Daryl Dixon and Norman Reedus, she might have wanted to dress like Beth or Carol or…a crossbow. Following in the shambles of a zombie was not the way to go.
All in all, Norman Reedus has always proved himself a good sport when it comes to the rabid and often strange attention that he gets for his portrayal of survivor extraordinaire Daryl Dixon. Daryl has been in a few sticky situations in recent episodes, but hopefully he'll remain among the living to keep Reedus around to brood and kill zombies for the indefinite future.
The Walking Dead is currently on its winter break, but Season 6 returns to AMC on February 14 at 9 p.m ET.
Resident of One Chicago, Bachelor Nation, and Cleveland. Has opinions about crossovers, Star Wars, and superheroes. Will not time travel.
Your Daily Blend of Entertainment News
Thank you for signing up to CinemaBlend. You will receive a verification email shortly.
There was a problem. Please refresh the page and try again.