Oprah Winfrey Grants Gayle King An Interview On CBS This Morning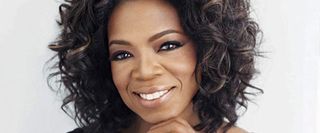 Just two weeks after OWN announced a restructuring plan that would lay off a substantial 20% of the network's employees, Oprah Winfrey herself is gearing up to head to daytime television to talk about the cable network that has been struggling in the ratings since its appearance in 2011.
Not only will Winfrey be returning to the daytime TV realm for one special interview, she will also be able to sit down with longtime friend Gayle King for her chat, which will air on King's CBS This Morning program. No doubt it is easier to talk about troubling issues with someone Oprah trusts, even if co-hosts Charlie Rose and Erica Hill are also peppering her with questions. The interview will air Monday, April 2.
The conversation Oprah has will not be all about OWN, however, which is good, considering how bleak and blah that has the potential to be. According to THR, some other topics Oprah will touch on include the 58-year-old's Leadership Academy for Girls, located in South Africa, as well as discussing the hopefully more light topic of how Oprah's life has been going since quitting daytime talkers and moving into a brand new TV realm. Even with all of the issues, OWN has been having, it must be a relief to no longer be under the demands of taping a show that airs each and every weekday. No doubt King and co. can relate.
You can catch the regular CBS This Morning lineup weekdays between 7 and 9 a.m. ET.
Your Daily Blend of Entertainment News
Thank you for signing up to CinemaBlend. You will receive a verification email shortly.
There was a problem. Please refresh the page and try again.