Jay Leno Says Farewell To The Tonight Show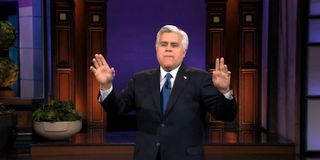 Well, folks — that's a wrap of the Jay Leno era of The Tonight Show. Not that you could tell by the bevy of jokes made at the expense of Leno's first adieu-bidding to the series. But unlike the last time we were at this juncture, Leno actually seemed ready, or at least, he had come to accept it. Because, as he himself said: it's time.
The episode, naturally, took a turn for the reflective, and Leno spent much of his short opening monologue discussing those 22 years. Mainly the difference and similarities of the two, illustrated with an Anthony Weiner penis joke, some pokes at Justin Bieber, a jab at Obamacare followed by one on the GOP (always tow the middle, he does), and some hokey digitally altered clips featuring politicians. You know, Leno-y stuff.
As his guest Billy Crystal alluded to during the night, Leno is a workhorse comedian. No one, regardless of your opinions on the man, could deny that. As he reiterated several times throughout the night, Leno had no idea for what the audience (and he) were in store. First up was a video with friends giving him some advice for the future: Steve Carell chimed in about not dwelling on the past from the desk of Michael Scott, Olivia Wilde accused Leno of neglecting their love-child-to-be, Kevin Bacon painted a naked portrait of the host, and NBC Sport's Bob Costas brought the booze. Obama made Leno the ambassador to Antarctica, while Bill Maher made efficient use of his time filming a "welcome back, Jay!" voiceover immediately after. All Matt Damon seemed to care about was finally fucking getting an invite to work on cars over at the Leno garage — of which they'll have no shortage of work to do after Miley Cyrus dented Leno's car.
Speaking for most of us, Mark Wahlberg declared he didn't give a shit what Leno did, as Kevin Hart suggested a career balloon animal creation (Because of his chin, ahyuck! Nailed it, Kevin). Other Garth (not Brooks: just Dana Carvey) did his best Leno while Charlie Sheen told him to fuck NBC. Tyler Perry even showed up to dress the comedian up as White Madea and made him sing "I Dreamed a Dream" from Les Miserables. And if that wasn't frightening enough, Martha Stewart trumped everyone with her recently horned-up schtick, suggesting a hall pass-approved affair, complete with her signature DIY twist — a bacon bikini. (See what living in Connecticut does to a person?) And to top it off, the video ended with… Larry the Cable Guy suggesting meth before Jimmy Fallon graciously offered Leno time on his iteration of The Tonight Show any time he wanted.
Afterward, Billy Crystal performed "So Long Farewell" from The Sound of Music with his Shut Your Von Trapp Family Singers. This motley crew consisted of Jack Black, Kim Kardashian, NBAer Chris Paul, Sheryl Crow, Jim Parsons, Carol Burnett (!! — who did her iconic Tarzan yell), and Oprah (!!! — who sang "if you were me, you'd buy them all a car," which was fun).
Leno's second guest of the evening was Garth Brooks, who came out and sang one of the host's self-proclaimed favorite songs, "The Dance," but not before giving a bromancey speech of his own.
"Boy this is the hard part … this is tricky," Leno stated; he began sobbing almost immediately as his farewells began. It was all very emotional and genuinely heartfelt. Likening the show to his family, Leno was gracious thanking the unions and everyone else involved. He mentioned not just the time they all spent together, but because in his first two years as host of the show, Leno lost both his mother and his father, and soon after his brother. Quoting the most iconic host of the series, Johnny Carson to sign-off, Brooks played out the show with his biggest hit, "Friends in Low Places."
And with that, the Jay Leno era has come to a close, and it certainly feels legitimate this time. It's time, but he had an undeniably commercially successful run. So long, Jay.
Your Daily Blend of Entertainment News