The Hilarious Detail Meghan Markle Shared About Her Life People Can't Stop, Won't Stop Talking About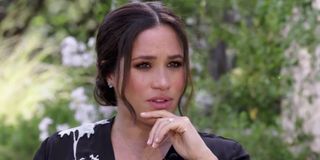 To say that Meghan Markle has become a major public figure in the past few years would be a major understatement. The public began examining the former actress very closely when she began dating Prince Harry back in 2016, and that only increased after the two married in 2018. Between all of the interviews and TV specials, it feels like we know quite a bit about Markle at this point. However, her recent interview with Oprah allowed her to open up even further. The interview included a number of major bombshells, but people seem to be particularly consumed with a funnier detail we learned about Markle's past.
During the wide-ranging chat, Meghan Markle opened up about some of the jobs she took on before becoming a working actress. And what people were most surprised to learn is that her first job, which she earned at the age of 13, was working at a yogurt shop. But here's the funny part -- the shop was called Humphrey Yogart. I guess you have to appreciate the corny but cute name, which is a nice tribute to iconic actor Humphrey Bogart.
The internet, as you would imagine, is having too much fun with the idea of a young Meghan Markle working at the yogurt shop. Some have even joked on Twitter that this reveal is their favorite takeaway from the recent interview:
Humphrey Yogart is a frozen yogurt shop that is still operating in Sherman Oaks, California today, and many viewers were thrilled to see the shop get a shout-out from Meghan Markle. Some even took the time to share their own connections to the shop:
Based on some of the messages on social media, many love the idea that Meghan Markle began her career serving frozen yogurt. Her past occupation seems to be striking a particular chord with fellow former frozen yogurt and ice cream employees:
The new development also has some fans pondering their own futures now. People are getting serious hope from the fact that Meghan Markle began her career serving frozen yogurt and eventually made her way to Buckingham Palace:
In life, everyone has to start somewhere, which means you could begin your professional career by working a job that may not appear too glamorous. You'd be surprised just how many well-known public figures held positions and titles that greatly differ from the jobs we know them for.
All in all, Meghan Markle doesn't seem to have any problem with having worked at Humphrey Yogart, and she shouldn't. It was steady work for a young teen, and it now gives her funny stories she can tell to people like Oprah Winfrey. Not only that, but it also appears to be making her even more relatable in the eyes of her fans.
Covering superheroes, sci-fi, comedy, and almost anything else in film and TV. I eat more pizza than the Teenage Mutant Ninja Turtles.