The Osbournes Get Reloaded On Fox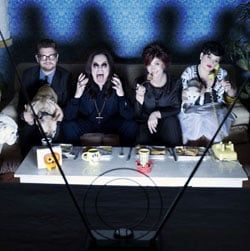 Been wondering what those wacky Osbournes have been up to? Most recently, the rocker family has teamed up with Fox for a new series called Osbournes: Reloaded. The series will feature the Osbournes as they continue to shock and amuse viewers as well as a studio audience with lots of crazy stunts. We've got a video promo for the series, which is set to premiere later this month.
According to Fox's press release, "Whether it's Sharon unveiling a stripping grandmother, Kelly and Jack bringing an unsuspecting playboy face-to-face with his ex-girlfriends or Ozzy soaking the entire studio audience with foam – TV's most outrageous family is guaranteed to rock the house."
Sharon, Ozzy, Kelly and Jack will all be on hand to host the show both on-stage and off. When they're not pulling stunts and getting the studio audience involved, they're out doing "Osbourne in the USA" segments, in which they travel across the country to spread their craziness around a bit. The video promo below should give you a pretty good idea of what this series is all about:
Osbournes: Reloaded premieres Tuesday, March 31 (9:00-10:00 PM ET/PT) on FOX.
Your Daily Blend of Entertainment News
Thank you for signing up to CinemaBlend. You will receive a verification email shortly.
There was a problem. Please refresh the page and try again.