Outlander Episode 3 'The Way Out' Trailer Teases Drama And Accusations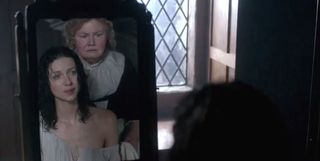 You know you're out of your time when someone says "I smell the vapors of hell on you," and someone else accuses you of being a witch. Claire Randall seems to be knee-deep in trouble and eager to get back to her own time period in the preview for Episode 3 of Outlander, titled "The Way Out".
While the first episode of Outlander introduced us to Claire Randall and her husband Frank before sending Claire back through time to 18th Century Scotland, the second episode ("Castle Leoch") focused almost entirely on Claire's efforts to acclimate herself to her new surroundings, all while being eyed curiously or warily but the Scottish men and women who see her as an outsider and potential threat. We also got a glimpse of Frank discovering Claire's car and the worry he's likely experiencing as he wonders what happened to her.
Among the snippets glimpsed in the preview for Episode 3, we have Claire spying Jamie kissing an apparently grateful Laoghaire, Claire chatting up Geillis, Claire being called a witch by Mrs. Fitz and at some point, looking faint. Lots of drama ahead, clearly! And with it, Claire's words "I must escape Castle Leoch and get back to the stones, or die trying." There's desperation there! Will Claire really risk her life to get back to the stones?
Starz spread the good news last week that they've opted to move forward on a second season of Outlander. The order is for "at least" thirteen episodes. That would be three fewer than the split 16-episode first season, but it may be too soon for the network and showrunner Ronald D. Moore to know if thirteen is enough to cover Dragonfly in Amber, the second book in Diana Gabaldon's Outlander series.
In the meantime, Starz has since released this excellent promo, which cuts together Outlander footage and footage from Black Sails, the latter of which is due for its second season on 2015...
Two things stand out to me in this promo, and that's adventure and strong female characters. Both Outlander and Black Sails include plenty of both, and it's certainly not a bad pattern to be developing at Starz. Check out the Season 2 teaser for Black Sails after the jump...
Your Daily Blend of Entertainment News
Thank you for signing up to CinemaBlend. You will receive a verification email shortly.
There was a problem. Please refresh the page and try again.