PTC Calls NBC Hypocrites For The Playboy Club's Magazine Tie-In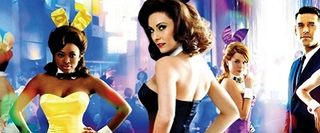 The Parents Television Council (PTC) is pissed at Playboy. Who's shocked? The watchdog group has come down on NBC for the recently announced tie-in between a Playboy magazine cover and the soon-to-premiere series The Playboy Club, calling the network out for previous statements that the show and Hugh Hefner's famous girlie mag are not connected.
NBC has stated that The Playboy Club, which premieres on September 19th, is about the famous nightclubs staffed by Bunnies and in no way connected to the magazine or to the pornography industry. After the announcement that the October issue of the long-running men's magazine will feature Playboy Club star Laura Benanti on the cover and in a feature inside the magazine, the PTC put out a press release calling the folks at NBC hypocrites.
According to the PTC, the magazine tie-in with the premiere of the new series proves beyond a shadow of a doubt that the two are inextricably connected, and that the show promotes pornography and the sexualization of women. According to PTC President Time Winter:
The PTC has been speaking out against the series pretty much since it was announced, and it can't really come as a surprise to anyone that they are condemning it. Nor can it really be that much of a surprise to the PTC that the Playboy brand is involved; this apparent proof is just the excuse to get back up on the soapbox. I don't think anyone truly believes The Playboy Club is empowering to women; much like Mad Men, another series known for misogyny, The Playboy Club is a show giving a window into a time and place most of us didn't get to see. Should we pretend it was something else, clean it up for public consumption? It wouldn't be honest, and it sure wouldn't be good television.
Your Daily Blend of Entertainment News
Thank you for signing up to CinemaBlend. You will receive a verification email shortly.
There was a problem. Please refresh the page and try again.