Parks And Recreation Season 4 Preview Reveals The Two New Tammys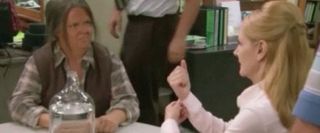 There are plenty of reasons to look forward to the new fall TV season, but when it comes to the September 22 premiere of Parks and Recreation, for me it's all about the characters. I just can't get enough Ron, Andy, April, well, the whole cast really. I even liked Mark Brendanawicz, remember him? He's not in this video.
But everybody else is, in a lengthy sneak peek at the upcoming season of the NBC comedy starring Amy Poehler, Rashida Jones, Aziz Ansari and Nick Offer(the)man (see what I did there? ahhh, I'm sorry...). The video is available as a free download at Amazon, and given that it shows off the first look at both new Tammys-- Patricia Clarkson as Tammy 1, Ron's first ex-wife, and Paula Pell as his mother Tammy 0-- it's worth every non-existent penny you'll pay for it.
Yep. All in one upcoming episode, the two ex-wives; the "raging hellcat who uses her sexual wiles"-- that'd be Megan Mullally's Tammy 2--and the "ice cold, dangerous, steely and maternal" wife, who is Tammy 1. Well, if anyone can stand up to those two, it's Tammy 0 in a 'Moonshine Battle Royale'-- it seems Ron Swanson was raised by a hillbilly woman who uses homemade alcohol to solve all her problems. And cut to the montage. This season looks like a lot of fun, and I think word of mouth may have caused the fan base to grow in the off-season so expectations are high for the fourth year.
Summer may be over but fall in Pawnee looks good. Parks and Recreation returns Thursday, September 22 at 8:30 p.m. on NBC.