Pending Cancellation, ABC's Cougar Town Could Move To TBS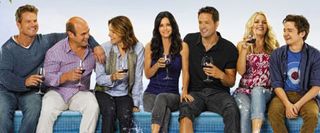 Cougar Town had a small but staunchly loyal audience during its first two seasons which was enough for ABC to give the comedy series a third season run, but not enough to give the show precedence over the promotion of the ill-fated Work It. When Cougar Town was able to eventually air Season 3 it was on Valentine's Day, and the show's return was a series low of 4.8 million viewers that has not particularly improved in the months since.
While Cougar Town is a lot closer to syndication than most of ABC's sitcoms and thus could potentially stick around, the show is doing horribly when compared to ABC's Wednesday comedy block including Modern Family, Suburgatory, The Middle, and Don't Trust The B---- in Apartment 23 as well as its Tuesday night Tim Allen-led partner Last Man Standing. While there is still a chance ABC might maintain Cougar Town on its schedule next year, there is a larger chance the show will get the axe. Unless…
Unless Bill Lawrence pulls another rabbit out of his hat and works out a network switcheroo, just like he did with Scrubs in 2008. Deadlne is reporting Cougar Town might be in the throes of just doing that. It seems TBS has had interest in the series for a while and has spent time working out a deal with ABC Studios to take the show off the network's hands. The talks are currently in the early stages, likely at least partially due to the fact ABC has not made a renew or cancel decision on the series, but for fans of the Courtney Cox-led comedy, the possibility of a switch to TBS is certainly good news.