Queen Elizabeth Found A Historical Mistake In Downton Abbey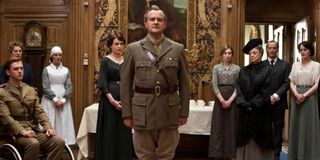 British period drama Downton Abbey has attracted a few different celebrity fans over the years, but perhaps most impressive of them all, is a woman who has experiences British royalty in her own life. None other than Queen Elizabeth. Apparently the Queen of England is quite fond of the ITV/PBS drama, so much so that she enjoys paying very close attention to the details of the storyline. There is a historical advisor on the show to try and prevent any inaccuracies, but the Queen found one.
Author of At Home With The Queen, Brian Hoey, sat down with People Magazine to share a few of the more personal details of Queen Elizabeth's life. And one in particular which stuck out was the 89-year-old monarch's obsession with Downton Abbey. Hoey explained that the Queen watches with a keen eye, and knows the Highclere Castle where the show is filmed inside and out. But one thing in particular that caught the Queen's eye was a big historical mistake. Hoey explains:
Something so specific would not be caught by the casual Downton Abbey viewer. But with Queen Elizabeth's extensive knowledge on the British military, and probably having awarded a few similar medals to soldiers herself, it was a mistake that definitely wasn't going to pass over her.
It actually is quite an interesting mistake too, considering how adamantly creator Julian Fellowes has avoided setting the series in or around WWII. When Downton Abbey first began, it was set in the early 1900s, exactly 1912 when news of the Titanic first comes to light. Since that time, the show has covered a number of historical events, and has been quite careful in exploring these events with historical accuracy. Now, as the show comes into its final season, and many years have passed, the question has come up on whether or not Downton will take on the discussion of WWII and the Nazis. Fellowes wants to avoid that subject in its entirety, even the years building up to the events of WWII where sides had to be drawn.
So as Downton Abbey comes in to its sixth and final season this year, the series will take place in 1925. We know the Queen will be tuning in with keen eyes, will you be joining her? Downton Abbey will premiere on ITV on September 20th while U.S. fans will have to wait until PBS airs it on January 3rd of next year.
Your Daily Blend of Entertainment News
Thank you for signing up to CinemaBlend. You will receive a verification email shortly.
There was a problem. Please refresh the page and try again.