Downton Abbey: The First Trailer For Season 6 Is Bittersweet And Emotional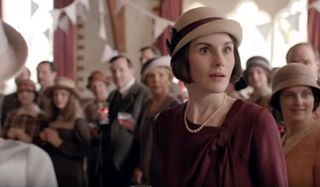 The end is near for Downton Abbey fans, and nothing rubs salt in the wound like a bittersweet and super emotional trailer to remind us. The first preview into the final farewell season is a short one-minute affair without giving much away, but does the job in hooking us back into that Downton Abbey state-of-mind. Take a look:
If we weren't upset enough for the final season of the critically acclaimed period drama, it looks like the characters are sharing in some of the waterworks as well. There isn't too much action, a few interactions and teases of drama ahead, but the only dialogue of the trailer sticks out predominantly and it is one that sums up all the feelings shared by the fans and the character ensemble. Hugh Bonneville's Robert Crawley notions an end to Jim Carter's Mr. Carson, telling him:
ITV dropped the teaser trailer just yesterday, and already we're dying to know what this emotional montage of the Crawley family and staff means for the final hurrah. The final season will consist of eight episodes that will pick up six months after the Season 5 finale, in 1925. And while the trailer doesn't give us any dialogue other than the Robert Crawley quote, we can see that big changes are most likely ahead, especially for the women of the show.
While Downton Abbey has made its final decision about Season 6 being its last, that doesn't necessarily mean we won't see some sort of spinoff, or even a movie to follow-up with the beloved characters. We knew the series had to come to an end when many of the key actors began to exit the series, or announce that they would not return after Season 6. At some point, especially after replacing characters too many times over, the creators had to realize that they were better off cutting the show clean, than continuing into what could become a disaster.
Season 6 is currently underway filming, and ITV has set its premiere date for September 20th, while the U.S. fans will unfortunately have to wait until January 3rd of next year for its PBS reveal. But while Season 5 had seen some disappointing ratings, the final season is hoping to attract some of the nostalgic Downton Abbey fans lost along the years. We'll have to wait and see if with this final chapter comes with any surprise returning characters.
Your Daily Blend of Entertainment News
Your Daily Blend of Entertainment News
Thank you for signing up to CinemaBlend. You will receive a verification email shortly.
There was a problem. Please refresh the page and try again.