The Reason A Charlie Brown Christmas Almost Never Aired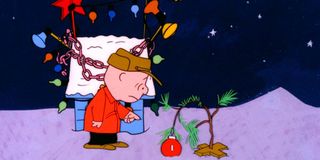 It's difficult to imagine a world without A Charlie Brown Christmas. The iconic special has been around since December of 1965, and as we gather around our Charlie Brown trees and think about the special this holiday season, it's worth remembering that it almost never hit the airwaves back in the sixties. Why were the Peanuts almost displaced during their animated debut on television? Because the blockhead executives at the network weren't fans of the final product, of course.
If you've ever watched A Charlie Brown Christmas, you should know it is more unusual than many of the Christmas specials out there. In fact, Charlie Brown is depressed for much of the special while he attempts to figure out the meaning of the holiday and avoid the rampant commercialization that seems to surround him. It also features no laugh track (strange for a time when TV executives believed audiences needed to be told when to laugh). And religion was brought into the storyline. In short, CBS failed to see the vision of the special and believed it would be a huge failure on TV.
Instead, an estimated 15,490,000 people tuned in to watch Linus read scripture, to watch Charlie Brown direct a Christmas play and hunt for a Christmas tree, and to hear the whole gang sing "Hark! The Herald Angels Sing."
The special has been so successful that it often airs multiple times each holiday season. ABC aired the special this year on December 2 and then again on December 16.
Fun fact: Coca-Cola was the company that initially got A Charlie Brown Christmas off the ground. Initially Lee Mendelson was working on a documentary that would follow Peanuts comic strip writer Charles M. Schultz and featured a few minutes of animated footage of the characters. According to Mental Floss, that ended up being a bust, but Coke liked the animation so much they signed on for A Charlie Brown Christmas. If Coke had never sponsored the program, we may never have seen A Charlie Brown Christmas on the small screen.
This has even more ramifications than you might realize. If A Charlie Brown Christmas never won over audiences, it's also unlikely we would have been given the glorious It's The Great Pumpkin Charlie Brown, A Charlie Brown Thanksgiving and many, many more Peanuts specials that aired over the years. So, in some ways, Coca-Cola is the great hero of this anti-commercialization story, alongside such idea pioneers as producer Lee Mendelson and director Bill Melendez. Good grief!
Amazing Race & Top Chef superfan with a pinch of Disney fairy dust thrown in. If you've created a rom-com I've probably watched it.
Your Daily Blend of Entertainment News
Thank you for signing up to CinemaBlend. You will receive a verification email shortly.
There was a problem. Please refresh the page and try again.