Red Band Society Trailer Teases Fox's New Teen Drama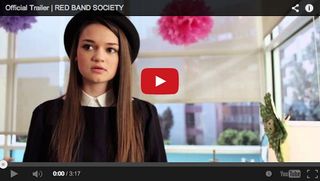 "Your body isn't you, your soul is you. And they can never cut into your soul."
Fox's new drama Red Band Society takes a different approach to a young adult ensemble story. There are no singing high schoolers and there's no glamorous backdrop. As we see in the trailer, these kids have little in common except for their residence, which is the pediatric ward of Ocean Park Hospital. In what looks like it could be a very emotional story about a group of teens battling a variety of medical issues, Red Band Society appears to be Fox's effort to move the young adult genre forward.
Anyone else hoping this show turns out to be as great as the trailer makes it look?
Executive produced by Steven Spielberg, Margaret Nagle, Justin Falvey, Darryl Frank and Sergio Aguero, the pilot for Red Band Society was written by Margaret Nagle. Here's a look at part of the series synopsis from Fox:
Octavia Spencer's character is Nurse Jackson, who's described as "a caregiver with a take-no-prisoners approach to making sure the kids get through the toughest part of their lives. Also among the cast are Dave Annable, Brian Bradley (aka Astro), Ciara Bravo and Zoe Levin.
With The Fault in Our Stars set to arrive in theaters in a matter of weeks, the timing feels right to explore the subject of teens struggling with legitimate and potentially terminal health issues. It's an adolescent perspective that really isn't explored all that often on screen, so it should be interesting to see how Red Band Society takes on the subject matter. And with Glee on the way out, this may be Fox's effort to revisit the young adult genre from a different angle. I'm hopeful Red Band Society will deliver.
Fox has Red Band Society set to air on Wednesday night at 9:00 p.m. after Hell's Kitchen, starting in the Fall. Check out Fox's full 2014-2015 lineup here.
Image 1 of 9