Rescue Me Creator Peter Tolan Drops Trou At TCA Panel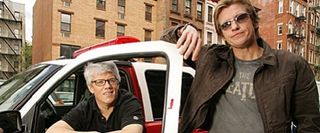 The TCA panel for Rescue Me started off normally enough. Denis Leary, the show's writer, producer and star joined creator and co-writer Peter Tolan and other cast members for the panel to discuss the end of the seven season run of the show. About half an hour in however, the duo shook up the room and picked up the flagging energy of the gathered critics who have seen panel after panel as part of the coverage of the upcoming TV season, Deadline reports.
In usual form, Denis Leary peppered his comments with four letter words, and Tolan decided to drop his pants. In response to Leary's observations of how bored the group must be, Tolan first announced he was going to take of his pants – and then he actually did. Tolan's striptease was met with applause and laughter, and possibly some momentary blindness thanks to his strikingly white legs and turquoise and black striped undies.
It might not have been the most flesh the TCA has seen, but it was certainly the most unexpected – and likely memorable. It's safe to say Tolan sent Rescue Me out with a bang. Meanwhile, Tolan and Leary have nothing to be sad about; the troublesome twosome are already at work on a new pilot, a half-hour comedy.
Still, the panel wasn't without some reflection; with the tenth anniversary of 9/11 only a month away, Leary offered his thoughts on the show's meaning early in the discussion.
Humor has certainly been Leary's way of dealing with just about everything, and it seems to work pretty well for him. As for Peter Tolan, well, let's just hope he keeps his pants on from now on.
Your Daily Blend of Entertainment News
Thank you for signing up to CinemaBlend. You will receive a verification email shortly.
There was a problem. Please refresh the page and try again.