Rescue Me's Daniel Sunjata To Star In Jeff Eastin USA Pilot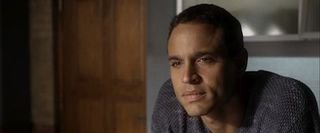 If you're looking for the cast of Rescue Me, you might want to check USA. Callie Thorne (Sheila) plays the starring role in the cable channel's Necessary Roughness, meanwhile Jack McGee (Chief Reilly) can be seen in the network's upcoming cop series Common Law, and Steven Pasquale (Sean) has a starring role in USA's drama pilot Over/Under. Now it looks like Daniel Sunjata, who played Franco in Rescue Me could be headed to USA, assuming things go well for Jeff Eastin's pilot.
Deadline reports that Sunjata, who recently played the role of Eli on Grey's Anatomy, has been cast in a starring role in the yet-to-be-titled Jeff Eastin pilot from Fox TV studios. The project follows four agents from varying law enforcement agencies (DEA, FBI, LAPD) who live together undercover in a "ganglord's mansion-turned-safe house" in Southern California. Sunjata's character is described as "an atypical FBI agent with a legendary past who has traded in his suit and tie for a more zen existence." He's also the senior agent in the house, outranking Aaron Tveit's character, who also reportedly plays an FBI agent. From the sound of it, Sunjata's character has a bit more experience than Tveit's.
The information seems like it might conflict with previously reported news, as it pertains to the number of agents and/or the variety of law enforcement affiliations. Deadline reports that the pilot will follow "four agents from various federal backgrounds," however the character descriptions for three of them, so far, specify that they're FBI. (Deadline reported back in December that The Chicago Code's Manny Montana was set to join the pilot, also as an FBI agent.) So, unless three of the four people living in the house are FBI, there may have been updates to the character descriptions (or maybe there are more than four agents living in the house) because the variety seems limited here.
Regardless of the law enforcement agencies represented in the pilot, Sunjata's involvement is definitely good news.