Revenge Adds The Client List's Michael Nardelli For Season 2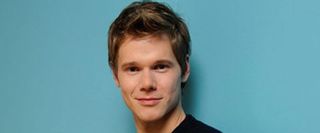 The Client List's Michael Nardelli is joining the cast of Revenge during its second season. With his preppy hair cut and strong jaw, Nardelli should do pretty well playing a character hailing from the upper class elite; however, his role in the upcoming season is a little less clean cut. As the loner Trey, Nardelli will be busy getting everyone's favorite little brother, Declan, into a world of trouble.
After Tyler's mischievous machinations were conveniently cut out of Revenge's plot in the middle of last season, the show has been a little on the boring side when it comes to strategic scheming from side characters (as much as I enjoy Ashley's occasional bid for a better social standing). Apparently, Revenge creators feel the show is a little better when some of its side characters are conniving, and this time Declan - instead of Daniel - will have to deal with the trouble. According to TV Line, Trey is set for a recurring role, which means Declan's problems will likely last over the second season.
Poor Declan's had to deal with a lot of crap from various characters ever since Revenge first started airing. His sweet and loving girlfriend turned into a suicidal pill popper, her mother spent an entire season making undercutting remarks about Declan's social status, and now he seems to be befriending a monster. Of course, his problems don't begin to match Emily Thorne's, and I can't wait to see how the plotlines intertwine when Revenge begins airing Season 2 episodes next month.
Revenge airs Sunday, September 30 at 9 p.m. ET.
Your Daily Blend of Entertainment News
Thank you for signing up to CinemaBlend. You will receive a verification email shortly.
There was a problem. Please refresh the page and try again.