Ricky Gervais, Stephen Merchant, And Karl Pilkington Talk An Idiot Abroad 2: The Bucket List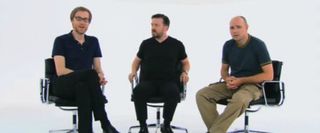 Ricky Gervais must be one of the busiest people in show business. Perhaps not one of the busiest people in Hollywood, mind you (even if he's hosting the Golden Globes), because, unlike a lot of talented people who find success in America, the majority of his projects are still developed and aired on British television. Currently airing overseas is his new sitcom called Life's Too Short , while the second series of An Idiot Abroad (2: The Bucket List) is about to hit DVD shelves in the U.K. even though neither hit American airwaves until the new year.
However, that doesn't mean we don't get to enjoy his funny promos for all of his series, including these new spots for the Idiot Abroad 2: The Bucket List on DVD. It seems as though they are improvising most of the short advertisements for the various outlets in the United Kingdom, and if you happen to live over there (or own a region-free DVD player) you can order the second series today! Yes, watch Gervais, Stephen Merchant, and Karl Pilkington shill for Amazon.co.uk, HMV, and Tesco while still aiming for laughs. I also love that Karl compares downloading to thieving houses. He's brilliant (even if completely warped).
For those who aren't familiar with the series (you should immediately run out and watch the first season), it follows podcast legend and co-star of The Ricky Gervais Show Karl Pilkington as he's forced out of his element and into various different cultures around the globe. This may not sound that funny, but trust me, Pilkington is a rare specimen and beyond perfect for this cultural experiment. Here's the full U.K. trailer for the second season of An Idiot Abroad called The Bucket List, followed by the promo for its upcoming run in The U.S. on The Science Channel.
An Idiot Abroad 2: The Bucket List premieres in the US on January 21st, 2012 on Science. The series is available in the U.K. on DVD (Region 2) on November 21st, 2011. Life's Too Short debuts on November 10th on BBC2, and then on HBO in February 2012. You can also catch the third season of The Ricky Gervais Show on HBO sometime early next year. That is a lot of Gervais, and I'm more than okay with it.
Your Daily Blend of Entertainment News
Thank you for signing up to CinemaBlend. You will receive a verification email shortly.
There was a problem. Please refresh the page and try again.