Rob Thomas' iZombie Adaptation, Kurtzman And Orci's 'Identity,' Jane the Virgin Get Pilot Orders At CW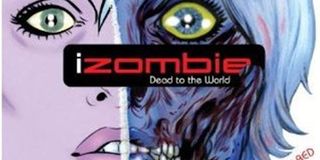 Veronica Mars creator Rob Thomas just inched a bit closer to returning to The CW. His adaptation of DC Comics' iZombie is one of a few projects that received a pilot order from the CW. Jane the Virgin and Identity also received pilot orders at the CW.
We'll start with the zombie pilot, which already sounds like a good fit for the CW, not only for its supernatural nature but its ties to DC Comics. Factoring in Smallville, Arrow and the potential Flash and Hourman series, we know CW's no stranger to DC. iZombie is a comic that centers on a zombie womb who works at the coroner's office, which offers her plenty of brains to eat. Eating brains allows her to access the memories of the deceased, which allows her to help out her medical examiner boss and a police detective solve crimes. We learned last fall that Veronica Mars creator Rob Thomas was developing the comic, and the latest update indicated that the drama was close to a pilot order. This week, EW confirmed the news, adding that Veronica Mars' Diane Ruggiero is also on board as co-showrunner, should this pilot go to series.
In other CW pilot news, EW says CW is moving forward with Jane the Virgin and Identity, giving both pilot orders. The former involves a religious and presumably virginal young woman who's "accidentally artificially inseminated," which is probably as immaculate a conception as we might see in the modern day world. The story is adapted from a Venezuelan telenovela called Juana la Virgen. EW says the original series' lead character was a 17-year-old who is impregnated due to a hospital error. The baby's biological father learns the news and falls in love with her… despite being married. Drama! Of course, we don't know how closely the CW drama would follow its source material, but it sounds like the basic set-up of accidental insemination is there. Jennie Snyder Urman is penning this one.
And then there's Identity, which is being written by Corinne Brikerhoff and executive produced by Alex Kurtzman and Roberto Orci, among others. The story has a complicated plot involving a woman needing an organ transplant and a powerful family that might have ties to some kind of domestic terrorist plot. At some point, the woman who needs the organ is faced with possibly testifying against the family that saved her life. Like I said, it sounds complicated, and a little bit outside of CW's current wheelhouse, but it could work.
With pilot orders for all three projects a go, we should hopefully be hearing casting news in the coming weeks. It'll be particularly interesting to see who's brought on board to play the zombie in iZombie and the pregnant virgin in Jane the Virgin.
Your Daily Blend of Entertainment News
Thank you for signing up to CinemaBlend. You will receive a verification email shortly.
There was a problem. Please refresh the page and try again.