DC Comic's Hourman May Be Next Hero at The CW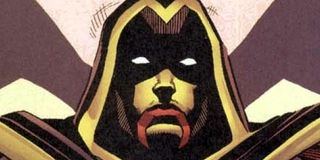 The CW can't seem to stay away from its recent comic book-centric boon — and since it's done well for them, why stop with just Arrow? That's why the network has decided to potentially expand its DC Comics horizon with Hourman, a drama series based on the characters of the same name, at least so says the The Hollywood Reporter.
It is said that Hourman will center around Rex Tyler, one of those brilliant bad boy types who also happens to be a pharmaceutical analyst whiz kid. After discovering that his crazy (erm, visions) was actually more of a superpower-level gift, he decides to attempt to prevent these tragedies. Turns out those visions are actually happening in real life — just an hour into the future (see where they got his supername from?). Beaten down by life like any good superhero should be, Tyler decides that the time for heroics is now and that in order to redeem himself (and hopefully win back his wife), he must try and prevent these no good, very bad things from happening, finding himself, his purpose, and redemption through his doings.
While not as well known as some other DC counterparts, Ken Fitch and Bernard Bailey created the Rex Tyler/Hourman character in April 1940, right in the height of the so-called "Golden Age of Comic Books" in the 1930 – 50s. Tyler/Hourman appeared in three different DC Comics series, first as himself, then later as Tyler's son Rick in DC's Infinity Inc. #20. His third iteration was debuted in 1997, where Rex Tyler was no more than an inspiration for the android that came to embody the Hourman, first appearing in Justice League of America #12. To date, the Hourman character has been involved with the Justice Society of America, the Freedom Fighters, the All-Star Squadron, and the Justice League. So crossover potentials are rife with this one!
If you think this is a new action plan for the network of vampires and weepy teen drama, you'd be right, sort of. The CW has been attempting to dealing with their male problem head on since the unveiling of its darker, action-based programs like the aforementioned Arrow, and even the Nikita reboot. So naturally, this season finds them musing over several additional comic book scripts. Including the Arrow back-door pilot for The Flash starring Glee's Grant Gustin, and Amazon a Wonder Woman prequel that's said to focus on the early days of comic book's most iconic heroine.
Seems that geekery is the name of the game — and a good going one at that. Tapping into the obsessive nature of both teen girls and boys (and even a rogue manboy here and there)? Given the recent sea change in nerd culture acceptance, it's smart business move if ever we've seen one.
As for DC's role in the TV world, they're not only playing with the teen-friendly network. The iconic comic house also has balls up in the air at NBC and FOX with Constantine and Gotham, respectively. The former will feature the work of the Dark Knight trilogy 's David Goyer, while the latter — already ensured a series commitment — will be yet another prequel series, this time focusing on Commissioner Gordon in his days before the Batman.
Michael Caleo (of The Sopranos fame) will pen the script for Hourman and executive produce the drama alongside Dan Lin and Jennifer Gwartz.
Your Daily Blend of Entertainment News