Ryan Reynolds' DarkFire Puts Tyler Labine In Guidance At Fox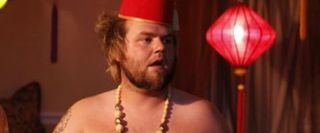 Recently, Ryan Reynolds founded a television production company called DarkFire with popular screenwriter Allan Loeb. They started the venture to primarily produce half-hour comedic series and, well, they've already made their first sale. In the early stages of the company's formation they developed a a first look deal with Fox and and it appears the network liked that first look very much picking up DarkFire's first series Guidance.
Deadline broke the news and suggests that Reynolds is not just a company figurehead but that, "Reynolds has been very involved in the project, which has received a premium script commitment with penalty from Fox, including attending pitch meetings." He will also function as an executive producer with the rest of the DarkFire team of Loeb, Jonathon Komack Martin and Steven Pearl. The next big step would be attaching a lead... oh? They've done that already as well. DarkFire spreads fast, apparently.
Deadline is also reporting that Tyler Labine is attached to star in the comedy, which was penned by Role Models writer and Loeb's co-writer on Just Go With It, Tim Dowling. Both of these participants herald good and bad news. Dowling's work is patchy at best, with Role Models being one of my favorite comedies of the past few years and Just Go With It being one of the least. Let's hope he brings some of the magic from the former for Labine to work with. And as for the potential star, Labine has been getting increasingly bigger projects even though every TV show he joins seems destined for cancellation (the most recent, Mad Love). I'm a fan of the Canadian comedian and I hope that this show sticks around a little longer.
We'll have to wait and see who else comes on board the "adult buddy comedy set in high school" before making any more judgements but these very early reports show some promise. I'll keep an eye out.
Your Daily Blend of Entertainment News