Ryan Seacrest Is America's Best Host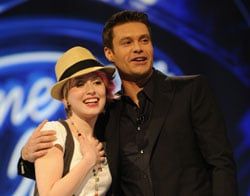 James Brown has been replaced as the hardest working man in show business. That title now belongs to Ryan Seacrest, and as the 8th season of American Idol begins its upswing into the real competition I think we should take the time to acknowledge that maybe he's not such a douche bag. Maybe he's one of the best hosts television has had in a long time, and yes he is essential for the formula of AI to work.
Move over to another man who's been getting hosting gigs lately for a brief comparison. Mario Lopez (A.C. Slater!!) is currently working as host for Randy Jackson Presents: America's Best Dance Crew over on MTV. The show itself is the only worthwhile dance competition on the air featuring real dancers aside from Fox's So You Think You Can Dance. Also note the AI vein running through all of these programs, it's not a coincidence.
Now if a show like Dance Crew can showcase the same level of amazing ability as American Idol, why is it not nearly as much fun to watch? The host. Mario Lopez is all obviously pre-written corny jokes, without an ounce of personality. Similar quips made by Seacrest are done with an evident self awareness that makes it charming, despite the fact the actions or words themselves could be seen as full of douchebaggery.
The reason is simple: Ryan Seacrest is great at his job. He owns the show he's on. When there's a technical malfunction he doesn't blubber around, no he takes charge and tries to fix it. Take this week's performance episode when the wrong video was queued up. Seacrest immediately took the contestant and said, "Let's recreate the video live." Imagine if that happened to Mario Lopez, the results would have been far different.
And just to acknowledge her greatness, Cat Deeley is the epitome of the host who's a part of the show. She's having fun with all the dancers on So You Think You Can Dance, and while maybe not the most technically proficient host she brings an ease to the show that is evident to the viewers watching at home.
One final comment, your jokes about Seacrest are not funny. They may be chuckle worthy, but they don't compare to Joel McHale. Seriously, now that McHale has made poking fun at Seacrest a comedic art form everyone else should just sit down.
Staff Writer at CinemaBlend.
Your Daily Blend of Entertainment News
Thank you for signing up to CinemaBlend. You will receive a verification email shortly.
There was a problem. Please refresh the page and try again.