SNL Alum Cheri Oteri Returns With AMC Comedy Shorts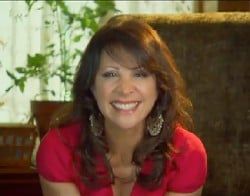 Little Cheri Oteri has scored a little AMC comedy show. Liza Life Coach is a web series of shorts that will find life on television, spliced throughout AMC's Monday night movie offerings, according to TubeFilter. Oteri has kept largely out of the spotlight since leaving SNL after a 5-year run in 2000. She's appeared in some small roles, and had a voice in the recent animated flop Sit Down, Shut Up!
Videos on the Liza Life Coach website date back to the beginning of January. They generally range from five to ten minutes and feature Liza's attempts to "Coach" her various patients. With her usual gusto and enthusiasm, Oteri proves that Liza is a terrible life coach, but as expected has no idea of just how terrible she is. Many of her guests are relative unknowns, but there are plans to incorporate guests like Lewis Black, Kathleen Madigan and even Mark-Linn Baker (Perfect Strangers), according to this piece on TV Squad.
Watching Oteri do her thing reminds us back to when Saturday Night Live had a whole slew of funny ladies on their staff, as opposed to the situation now with Kristen Wiig as the only main female cast member, along with three featured players who are trying to prove themselves. Even ten years later, Oteri is as sharp and funny as ever, and can be truly seen having fun with this character and premise. Hopefully, this is but a harbinger of more Oteri goodness to come. Who knows, maybe AMC will get into the full-length comedy business with her.
For now Liza Life Coach airs throughout AMC's Monday night movies, and can be seen online at AMC as well as her own site.
Your Daily Blend of Entertainment News
Your Daily Blend of Entertainment News
Thank you for signing up to CinemaBlend. You will receive a verification email shortly.
There was a problem. Please refresh the page and try again.