SNL Sports Special Hires Twinkle And Stink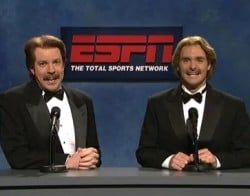 This Sunday, the folks behind Saturday Night Live are back with another of their themed specials. This time, in honor of the 2010 Winter Olympics on NBC, it's SNL Presents: Sports All-Stars. For their latest Christmas special, having Kristen Wiig as Gilly "host" it, turned into a disaster. The character is far too limited for that. So it's great that Pete Twinkle (Jason Sudeikis) and the best color man in the biz, Greg Stink (Will Forte) will be on hand.
I know it's probably crass, and apparently offensive to some, but I find their antics to be hilarious. From the absolutely horrible jokes Twinkle makes about their various sponsors to the complete cluelessness Stink displays for every sport imaginable, the pair are always funny when together. And their natural hosts, so they can actually segue into and out of the various sketches.
The problems that I've had with most of the recent SNL sketches is the apparent short attention span of them. I know your target demo skews younger, but this is a show with a 35 year history. You'd think you could reach further back than Will Ferrell a little more often. Watching these, you'd think the best years of the show have been the past ten, but I think we all know that's not true.
Still, if the writing is on par, this two-hour special might be worth tuning in for just to see the new bits with Pete Twinkle and Greg Stink. I hope they find a way to incorporate talking about real sponsors of the special into the sketches, just as they did wit the fake female products during their appearances on Saturday Night Live.
SNL Presents: Sports All-Stars is a two-hour special airing Sunday, January 31st at 9 PM ET on NBC.
Your Daily Blend of Entertainment News
Thank you for signing up to CinemaBlend. You will receive a verification email shortly.
There was a problem. Please refresh the page and try again.