The Saint's Roger Moore And Ian Ogilvy Join The Cast Of The Reboot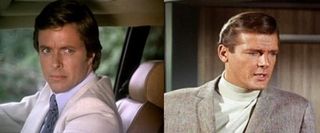 Two former Simon Templars will be showing their support for the newest man to take on the role in the reboot of The Saint. Not only will the original Simon Templar, Roger Moore, be co-producing the backdoor pilot, he also plans to join the cast – as does Ian Oglivy who played the role in the 70s reboot.
The newest version of The Saint will star Adam Rayner (The Hunted) in the title role. Roger Moore, who originated the TV role in the 60s, and then went on to play James Bond, will be playing Jasper. Ian Ogilvy took on the role in the 70s for a short-lived reboot, Return of the Saint, and he's coming on board to play The Banker. Already cast in the pilot, in addition to Rayner, are Eliza Dushku (Dollhouse), James Remar (Dexter), Enrique Murciano (CSI), Thomas Kretschmann (Wanted), Beatrice Rosen (The Dark Knight), Yani Gellman (90210), Greg Grunberg (Heroes), Michael Ornstein (Sons Of Anarchy) and several others according to Deadline.
Production has already begun on the backdoor pilot, which will be shopped around once it's completed to find a network. Jesse Alexander wrote the script and will be showrunner for the project, while Simon West is directing. The pilot is shooting in Los Angeles, Toronto and of course, London.
The Saint is about a slick criminal who is adept at disguise and at evading the law, and takes his own twist on the Robin Hood legend by stealing from the rich. Based on a series of books, it's been adapted many times, including the big screen version starring Val Kilmer.
Your Daily Blend of Entertainment News
Thank you for signing up to CinemaBlend. You will receive a verification email shortly.
There was a problem. Please refresh the page and try again.