Sarah Brown Returns to General Hospital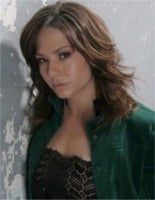 Ok, I confess. I've been watching General Hospital for 28 years. Yes, 28. That means I've been through the whole Luke and Laura/Cassadine phase, and loved every minute of it. I bought my first VCR (Beta, mind you) specifically so I could record the wedding of Luke and Laura. I still have the tape. I know…I'm such a GH geek.
One of my favorite storylines was when Carly came on the scene. She was the daughter whom Bobbi had given away, back when she, Luke and Ruby were living in Florida, where Ruby was running a whorehouse.
Of course, years later, Carly comes back into Bobbi's life in Port Charles, causing all sorts of trouble, including stealing her husband at the time, Tony Jones.
Carly, now played by Laura Wright, was originally played by Sarah Brown, who's coming back to General Hospital on Thursday, January 31, after leaving the show more than six years ago and earning three Emmy awards for the role of Carly.
The big news is that Brown won't be playing Carly, but rather but rather a brand new character named Claudia.
Hollywood 411 on TV Guide Network will air an exclusive interview with Brown on Wednesday, January 30, at 9 p.m. ET. She'll reveal details about her new character, and also discuss her reactions to not returning to the role she made so famous.
Since leaving General Hospital Brown has appeared in a variety of shows, including Cold Case, The Closer, Monk, and K-Ville. From 2004-2005, she played Julia Larrabee Jackson on As the World Turns, and Power Rangers fans will recall that she played Kaitlin Star on V.R. Troopers in the mid-1990s, as well as Heather on ZeoRangers.
Your Daily Blend of Entertainment News