Sarah Silverman Developing Punching The Clown Adaptation For Showtime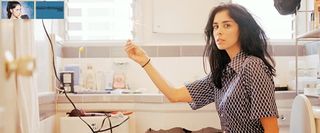 Comedian Sarah Silverman has put in a couple of memorable appearances of FX's brilliant Louie recently, and now she's got her sights set on returning to the small screen on an extended basis…at least as an executive producer. Silverman is teaming with an Arrested Development veteran to help adapt the movie Punching the Clown into a series for Showtime.
Punching the Clown won the Audience Award at the Slamdance Film Festival back in 2009. Written by Henry Phillips and Gregori Viens (who also directed), it's the story of singer-songwriter Henry Phillips, who achieves fame and fortune through dumb luck, and who manages to lose it nearly as quickly as he found it. Deadline reports that the TV version will pick up after the film, with Phillips living with his brother, a struggling actor. Phillips and Viens will write for the series, along with Arrested Development writer Chuck Martin. As for Silverman, she'll be executive producing the series along with David Permut.
There's no word whether Silverman would put in any appearances in front of the camera. Punching the Clown will be her first extended involvement with a live-action show since The Sarah Silverman Program, which ran from 2007 – 2010 on Comedy Central. (She also voices a character on Fox's Bob's Burgers.)
As Deadline points out, if Showtime decides to pick Punching the Clown up to series, it might make a perfect pairing with Episodes, starring Matt LeBlanc, since both focus on Hollywood and show business. Episodes is currently paired on Sunday nights with Weeds, but since that show is currently in its final season, Punching the Clown could be a nice fit to fill that slot.
Your Daily Blend of Entertainment News
Your Daily Blend of Entertainment News
Thank you for signing up to CinemaBlend. You will receive a verification email shortly.
There was a problem. Please refresh the page and try again.