Sebastian Stan Of Gossip Girl Joins Political Animals Cast At USA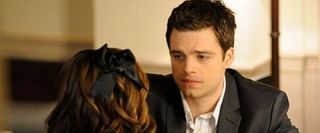 The latest to join the cast of USA's Greg Berlanti/Laurence Mark behind-the-scene political drama, Political Animals is Gossip Girl's Sebastian Stan. He joins a cast that got quickly more impressive with the recent addition of Sigourney Weaver in the leading role as the divorced wife of a former President dealing with family fallout and career challenges.
Stan, according to The Hollywood Reporter will play one of the two sons of Elaine Barrish, the role Sigourney Weaver has been tapped to play. Barrish is the matriarch of a political family, recently divorced from the former President and taking on the job of Secretary of State after a failed bid for a Presidential nomination. Stan's character, Thomas "T.J." Hammond, is the floundering son who has addiction problems and can't quite seem to get it together. He's the polar opposite of straight-laced brother Douglas, who will be played by Jimmy Wolk. Also added to the cast is Calra Gugino in the role of a tough D.C. journalist dogging Elaine Barrish's every move.
Political Animals is a six-episode series that will air this summer on USA. Political dramas are made or broken by casting and writing in my opinion, and I was on board for this one from the moment Weaver joined the cast. Fortunately, she's being given a great team to work with so far, and the casting is looking to be stellar for this one. That just leaves the great writing that is needed to keep it from being formulaic; is Berlanti up to the challenge?
Your Daily Blend of Entertainment News