Lone Star's Jimmy Wolk Cast In USA Series Political Animals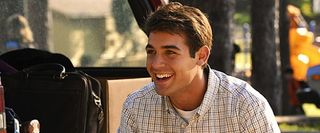 Casting is underway for Greg Berlanti's Political Animals over at USA. Jimmy Wolk is the first to pick up a role on the series which is set for six episodes to air this coming summer. He's been on the pursuit list for a number of pilots this season as well, but he has landed a slightly longer term gig on this one.
According to DeadlineWolk has been cast as the son of Elaine Barrish, current Secretary of State who also happens to be a former first lady now divorced from her Presidential husband. The series will follow the fictional family through life after the White House as they struggle to keep things together. Wolk's character is Doug, who serves as a Chief of Staff to his mother and for whom the family has high hopes of following in his father's footsteps to the Oval Office.
Jimmy Wolk (who also goes by James) comes off a starring role in Lone Star not long ago and has recently guest starred on Happy Endings and Shameless. He's also got a role on the big screen in For a Good Time, Call… which just premiered at Sundance. Berlanti is writing this one, solo for the first time since Everwood, and as far as political dramas go it sounds promising. A lot rides on the casting of the matriarch in this political family drama; I can't help but have visions of Hillary Clinton when I read about the role, but somehow I expect something somewhere between Clinton and Jackie Kennedy. I expect we'll see what the producers have in mind soon enough.
Your Daily Blend of Entertainment News