Secret Life Of The American Teenager's Final Season Premiere Date Set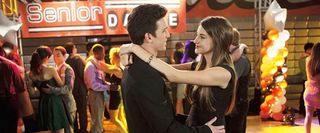 The Secret Life of the American Teenager will be revealing its final secrets starting on March 18th at 8 pm. ABC Family will launch the first of 12 episodes for the fifth and final season of the drama following an all-day marathon.
Back in October word came down from the network that the upcoming season would be the last one for Secret Life. The series is currently ABC Family's longest running scripted program, and helped the network gain a foothold in the original programming arena. Back when the show was cancelled we were told the final season would be headed our way in March, and Deadline has the official word on the date and fans can mark their calendars. And book the whole day off for the pre-premiere marathon too.
We've been told to expect a final season in which loose ends are tied up and the cast are sent off into the future beyond high school with a generally happy ending for all. It sounds like those who have been with the show from the start should be pretty satisfied with how things shake out. The show has already lined up a number of guest stars for the final season including Chaz Bono, Danica McKellar, and Beverly Mitchell.
While star Shailene Woodley has already moved on to become an Oscar-nominated film actress, I expect we'll see some of the stars of the show popping up for pilots and other projects in the upcoming season after they say good bye to Secret Life. In the meantime though, we still have 12 episodes to go.
Your Daily Blend of Entertainment News
Thank you for signing up to CinemaBlend. You will receive a verification email shortly.
There was a problem. Please refresh the page and try again.