The Secret Lives Of Wives Casts David Conrad In Pilot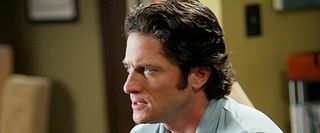 Another Ghost Whisperer alum is headed for a Lifetime project. Following in the footsteps of his former co-star Jennifer Love Hewitt--who stars in Lifetime's The Client List--David Conrad has been cast in the pilot for the new Lifetime drama The Secret Lives of Wives.
Based on a book by Iris Krasnow, The Secret Lives of Wives follows four married women and looks at the hidden truth beneath the veneer of their marriages. Already cast as the four women are Kim Raver as Michelle, Salli Richardson as Reed, Amber Clayton as Keaton and Lauren Bittner as Jesse. Deadline is reporting David Conrad has been cast in the role of Wil, husband to Michelle.
Wil is a charming English gentleman and a literature professor, who went through a serious illness fifteen years prior to the series. After Michelle nursed him through his illness, the two have been very much in love and are preparing to renew their wedding vows. That's when Michelle learns Wil isn't who he appears to be and has been leading a double life, throwing everything into chaos. It's looking like the series might be more about the secret lives of husbands rather than the wives.
Since the Ghost Whisperer finished filming, Conrad has done a few guest appearances, including popping up on the short-lived NBC series The Firm and CBS' The Good Wife. He did a pilot for NBC last year called Beautiful People, which wasn't picked up to series. Hopefully he'll have better luck with The Secret Lives of Wives, which should be a good bet for pickup since it sounds like classic Lifetime fare.
Your Daily Blend of Entertainment News