See American Horror Story's Eerie Family Portrait Video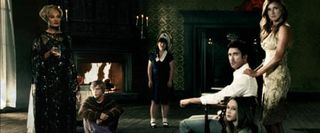 Once again, the more I'm trying to stay pessimistic about Ryan Murphy and Brad Falchuk's new series American Horror Story, the more the promotional materials keep winning me over. Damn you, Murphy! I'm not going to get into why I have such vitriol for the Glee creators (or maybe it's self-explanatory) but I will say they sure know how to create some good old fashioned buzz.
The show's premise is a pretty standard haunted house story-- troubled family moves into house with troubled past and troubling things start to occur, often involving children or grandparents. Of course, the very young and very old are creepy as hell... middle aged? not so much. The show started its journey under lock and key with the story details wrapped up tight, and though the details of the 'horrors' remain hidden (or at least obscured), the promotion has begun slow trickle of 'clues.'
These clues are nothing more than 16 second abstract pieces that are designed entirely to make your skin crawl and your hair stand on end. I've written about the clues and horror house call campaign before, although there are several more clues now than before, but what sets this new tease apart is we finally get to see the family! Take a look at the brief promo below.
American Horror Story premieres October 5th on FX. It stars Dylan McDermott, Connie Britton, and Jessica Lange.
Your Daily Blend of Entertainment News