Seth Rogen Comedy Pilot Future Man Ordered By Hulu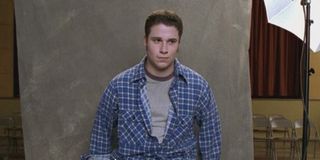 With the current domination of online streaming services, many companies are taking bigger steps to secure their place. Hulu, has slowly been gathering talent in their attempts to produce competitive original content. Their latest move may be the biggest yet, as the streaming service has just signed on to work with comedy superstar Seth Rogen. Hulu has ordered a half-hour comedy pilot from Rogen and his producing partner Evan Goldberg entitled Future Man.
According to Deadline, several outlets were pursuing the half-hour long comedy, including premium cable networks. Hulu landed the duo and has given the green light which will be both executive produced and directed Rogen and Goldberg. The script is set to be written by Kyle Hunter and Ariel Shaffir, both of which have worked with Seth Rogen and Evan Goldberg on the recently released feature The Night Before. The pitch for Future Man originated from a feature length script that the scribes wrote for Rogen and Goldberg. It centers on a janitor by day doubling as a world-ranked gamer by night who is tasked to prevent the extinction of humans after a group of mysterious visitors from the future deem him the key to defeating a super-race invasion. So far that is the extent of details given about the script, but it certainly sounds right up Seth Rogen's alley. And while the actor the actor is slated to direct, we can't help but think he might be perfect for the role of janitor.
It's unlikely Rogen will star at any capacity in the Hulu series. He and Goldberg are busy with plenty of other projects. On the television side, the duo are working on AMC's comic-book adaptation of Preacher and the FX animated comedy Bigfoot. Rogen is also filming Neighbors 2: Sorority Rising which he and Goldberg contributed in writing. The two are also writing animated comedy Sausage Party starring Paul Rudd, Kristen Wiig and many more big names in comedy.
As for Hulu, this year is turning out to be a huge one for the streaming service, after acquiring Seinfeld and beginning to aggressively push original shows. In the push to create stronger original series, the names signed onto projects have also been huge. Amy Poehler's new series Difficult People just recently aired, Stephen King and J.J. Abrams have an upcoming drama 11/23/63 starring James Franco on the way, and Jason Katims' The Way is also coming along. The company also picked up the fourth season of The Mindy Project after an upsetting cancellation by Fox.
This Seth Rogen comedy is still in the early stages, but considering Hulu's strong comedy programming, we can foresee it going all the way. More word on the status of the series is sure to come down the line.
Your Daily Blend of Entertainment News
Your Daily Blend of Entertainment News
Thank you for signing up to CinemaBlend. You will receive a verification email shortly.
There was a problem. Please refresh the page and try again.