Seth Rogen Discusses Being A Gay Bear Icon On Conan Complete With Drawings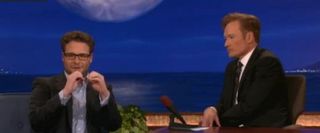 Sometimes forgotten in discussion of the TV landscape are the boys of Late Night. Yes, when they are caught in the middle of a network conflict or controversy, they bump right to the front of the TV news, otherwise, they stay relegated to the cob-webbed attics of their late night time slots. This is really too bad because some of the most fun, funny and interesting comedy happens on talk-shows after 11 p.m., just like this little encounter with Seth Rogen on last night's Conan.
The great thing about the internet (there is only one great thing) is that these 'too late for some' sources of comedy show up online the next day and we get to relish in the fun for the first time or all over again. As previously mentioned, last night's guest on the Harvard educated, lanky, red-head's talk show was comedian Seth Rogen and the topics of discussion varied quite a bit, from his upcoming (and critically acclaimed) new dramedy 50/50, which tells the true story of his real life friend Will Reiser's battle with cancer, to his status as a 'Gay bear icon."
You heard (read) that correctly. Apparently, Rogen is a big hit in a certain section of the homosexual community that is attracted to what they call 'bears,' which Rogen describes as "big, hairy dudes that gay guys like." You can see just how he might fit the bill, especially before his weight loss. However, the real fun begins when he continues with the story, adding that he's become a muse for certain artist before producing a bunch of racy sketches of himself from said artist. The drawings he shares with the audience are called, by him, 'Lazy Sunday,' 'Come and Get Me' and 'Peek-a-Boo.' I'm laughing just recalling the images. Take a look at the specific clip and/or watch the entire interview below.
Seth Rogen on Conan - Bear Icon
Seth Rogen on Conan - Full Interview
Conan airs Monday-Thursday on TBS at 11 p.m.
Your Daily Blend of Entertainment News