Sharknado 2: The Second One Will Premiere In July, Ian Ziering And Tara Reid Confirmed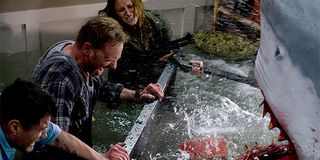 Can lightening strike twice during a Sharknado? Syfy is apparently hoping so, as the network has Sharknado 2 set to air this summer. That's not entirely news. The weather forecast indicated that another Sharknado is on the way this year, it was just a matter of when. It was announced this week that Sharknado 2: The Second One will hit the ground this July, and as a bonus, stars Ian Ziering and Tara Reid are both set to return for the sequel, which is set in New York this time around.
The announcement doesn't give us an exact date, only that Sharknado 2: The Second One will premiere on Syfy in July, and that production is set to begin on the TV movie on February 13, in New York. The first Sharknado aired last year, managing to earn itself a bit of modern-day cult status by trending on Twitter during its initial airing, though the ratings were were just ok. The film was set on Los Angeles and followed the mayhem that ensued when a massive hurricane swept the coast, flooding the city with water and a lot of sharks. As you can imagine, it was quite the catastrophe.
The second film moves the storm to the East Coast, "when a freak weather system turns its deadly fury on New york City, unleashing a Sharknado on the population and its most cherished, iconic sites — and only Fin and April can save the Big Apple. Ziering is Finley "Fin" Shepherd and Tara Reid is April Wexler. While I'm sure fans are eager to see both Ziering and Reid back for the sequel, there seemed to be some uncertainty over whether or not Reid will be back. It seems she will. Both characters managed to survive the onslaught of sharks in the first movie, but will they survive the sequel? We'll find out this July! The sequel will be directed by Anthony Ferrante, who helmed the first Sharknado, and the screenplay was written by Sharknado-scribe Thunder Levin.
For those looking to find a way to pass the time between now and July, you can watch this compilation of dramatic and bloody violent Sharknado moments…
"They took my grandfather. So I really hate sharks."
You can watch the full Sharknado movie over at Amazon Prime and Netflix.
Here's the trailer for the original Sharknado: