Sharon Osbourne Will Take A Break From CBS' The Talk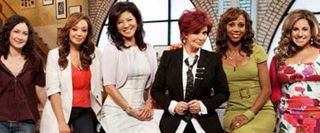 Employees of CBS' The Talk are dropping like flies. At the turn of the year, co-host Marissa Jaret Winokur bailed on the program. Then, in May, the show's second producer Susan Winston left the show after only a week on the job. At some point, you would think The Talk would finalize its lineup and settle into a routine. Apparently, it hasn't, and now co-host Sharon Osbourne is asking for a break from the show.
The Talk has been overtly criticized as terrible, even with charismatic Holly Robinson Peete at the helm. If you're going to leave an unlikable show, I guess it's better to jump off a sinking ship and take your chances rather than stay on board until the bitter end. However, Osbourne isn't begging to leave. According to AOL TV, Osbourne is just taking a break so she can hang out with her husband, Ozzy, when he's on leave from his current tour.
Osbourne has said about her tenure of absence:
Sounds fishy to me. Losing Sharon Osbourne will cut the cast down to four people and will also rid The Talk of any colorful character it had. If Osbourne's leave really has something to do with her love for Ozzy, good for her. If it has more to do with snark and bitchy side comments backstage, I wouldn't be surprised if Sharon Osbourne turns her break into something more permanent. So what if The Talk is already renewed for a second season? Her paycheck can't be that good.
Your Daily Blend of Entertainment News