Sharona Returning To Monk's Side One Final Time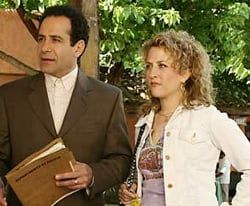 Monk fans have been divided since the middle of the third season. There are those who prefer Monk's original sidekick and assistant Sharona, and others who think Natalie was a good replacement for whatever happened behind the scenes. As the show gets ready to go into its eighth and final season everyone is going to be appeased because Sharona is coming back.
According to Ausiello, Bitty Schram has finalized a deal to appear in one episode during Monk's final season. The explanation that Sharona returned home to Jersey with her son and ex-husband always felt a bit forced. Now the writers have a chance to give closure to the Sharona and Monk relationship.
I've always been a casual fan of the show, catching an episode here and there. Personally I thought Natalie was a great juxtaposition for Adrian, but Sharona's brash attitude was a key ingredient to the hilarious partnership with a man who is extremely obsessive-compulsive. I'll be happy to revisit that dynamic one more time.
Staff Writer at CinemaBlend.
Your Daily Blend of Entertainment News
Thank you for signing up to CinemaBlend. You will receive a verification email shortly.
There was a problem. Please refresh the page and try again.