The Shield's Shawn Ryan And V's Gregg Hurwitz Team Up For TNT Crime Drama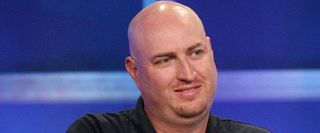 Shawn Ryan is probably best known for creating and executive producing The Shield, a cop drama set in Los Angeles that aired from 2002 to 2008. More recently he served as the executive producer on two less-watched crime dramas, the critically acclaimed Terriers and The Chicago Code, which everyone around me watched due to my home base being in Chicagoland. I think it is pretty safe to assume, at this juncture, that Ryan is fond of working on crime dramas. Now, he is putting together a new one, this time for TNT.
Ryan has teamed up with Gregg Hurwitz, who has written a series of books based on fictional U.S. Marshall Tim Rackley. If the project goes to series the new show will center around Rackley, an honest Abe with an impeccable moral code. According to Deadline, Hurwitz is actually on board for the long haul and will executive produce alongside Ryan.
I haven't read Hurwitz's series, although the old school moral code of the protagonist seems a far cry from the other TV project Hurwitz was involved with just a few seasons ago. ABC's V featured aliens waging an underground battle against humanity that humans found out about and joined a resistance movement against. While I highly doubt audiences will get anything quite as daring with a crime drama focusing on Tim Rackley, if it is done correctly, that shouldn't matter one iota. I know it is difficult to root for yet another crime drama on TNT, but please consider giving the show a shot. If not for me, than for Terriers.
Shawn Ryan also has an ABC pilot in development called Last Resort.
Your Daily Blend of Entertainment News