Showtime Turning Australian Movie Animal Kingdom Into A Drama Series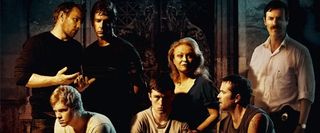 You might not have heard of the Australian movie Animal Kingdom yet, but if you pay attention to the upcoming Oscars you will noticed that actress Jacki Weaver is up for a Best Supporting Actress award for her role in the film. While that alone might make it worth checking the film out when you get a chance, now there's a whole other reason to be interested. Deadline reports that Showtime, John Wells, and Warner Bros. TV are turning Animal Kingdom into a TV drama.
So what's this Animal Kingdom all about, then? Is it sort of like that Matt Damon movie where he buys a zoo? No indeed, Animal Kingdom is instead based on the story of the Pettingill family, one of Melbourne's most notorious crime families. Weaver earned her Oscar nomination for playing a fictionalized version of the family's matriarch, Kath Pettingill. The series version will focus on the ongoing war between the Petingill syndicate and the cops.
John Wells will be executive producing the new Animal Kingdom series with Jonathan Lisco, who will also be writing the pilot. It will be the second Showtime series Wells is involved with, because he also exec produces the excellent Shameless, starring William H. Macy and Emmy Rossum. As for Lisco, he's been a writer and co-exec producer with Wells on TNT's cop drama Southland, so the battle between law and order should be familiar territory for him. Animal Kingdom should be a solid addition to Showtime's line-up, since they already have many shows that explore characters with "nontraditional" views on the law (Weeds, Dexter).
Here's the trailer for the movie version of Animal Kingdom, which earns many points for its excellent use of Air Supply's "All Out of Love."
Your Daily Blend of Entertainment News
Thank you for signing up to CinemaBlend. You will receive a verification email shortly.
There was a problem. Please refresh the page and try again.