The Simpsons Aims For World Record With 500-Episode Marathon Screening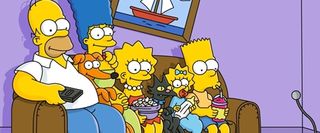 Are you a die-hard fan of The Simpsons? Do you have too much free time? Do you hate yourself? If so, you could enter the Guinness Book of World Records thanks to an upcoming event being organized by Fox. [Update: At least, you could if registration wasn't already closed, according to the marathon's official website.] The Simpsons Marathon will celebrate the show's 500th episode by screening every episode, in order, back to back, with a goal of landing somebody the World Record for longest continuous television viewing. One contestant could stake out their place in history in a field previously dominated by stoners and shut-ins!
So what's the bar for the masochistic competitors? The previous record was also set by viewers of a Fox show, just two years ago. Kevin Coon, Victor Lopez, and Farris Hodo managed to stay awake and bedsore free through all six seasons of Fox's 24. That worked out to 86 hours, 6 minutes, and 41 seconds. While some intrepid kid hopped up on Red Bull might be able to beat the record during the Simpsons marathon, they probably won't be able to duplicate the feat of watching the entire series. To make it all the way through the Simpsons run competitors will have to stay awake for somewhere in the neighborhood of 200 hours. According to the L.A. Times, that's getting perilously close to the record for the longest a human has gone without sleep (264 hours, set back in 1963).
The marathon will be held February 8th at Hollywood and Highland in Los Angeles. The winner (and we use the term advisedly) gets to take home $10,500. That should just about cover the therapy for the post-traumatic stress flashbacks they'll be having for years to come.
Your Daily Blend of Entertainment News
Thank you for signing up to CinemaBlend. You will receive a verification email shortly.
There was a problem. Please refresh the page and try again.