Smash Adds Law & Order's Jesse L. Martin For Season 2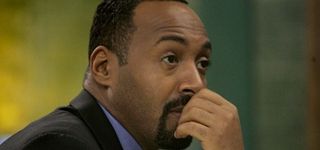 Smash continues to add big names to Season 2. This time it's Law & Order actor Jesse L. Martin, who brings more to the role than the average TV actor, as he's actually a Broadway veteran as well. Smash is looking to raise the bar for a second season that it expected to see some changes.
Jesse L. Martin joins Jennifer Hudson and Sean Hayes who have already signed on as recurring characters for the upcoming season of the musical. Martin was part of the original cast of the Broadway hit Rent and has spent plenty of time on the stage, which makes him pretty well suited for a role in a television series about a Broadway show. He's best known for his long run on Law & Order, but recently appeared on The Philanthropist and in the feature Joyful Noise.
Deadline reports that Martin will be playing Scott Welker, the Artistic Director for a theater company on Smash in a recurring role rumored to have some connection with Julia (Debra Messing).
Smash finished out its first season amid some criticism of the direction it had gone in, and said goodbye to showrunner and creator Theresa Rebeck at the end of the season. Since then the series has been adding new cast members pretty regularly and gearing up to prove itself in Season 2. The musical, which focuses on the production of a Broadway show about the life of Marilyn Monroe, managed to get past the Glee comparisons in a hurry, and seems to have found a place of its own. Season 2's reception will be very telling about the show's future.
Your Daily Blend of Entertainment News