So You Think You Can Dance Renewed For Season 10, Auditions Begin In Austin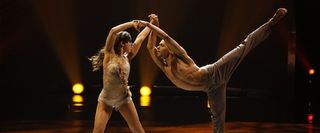 So, you think you can dance? If that's the case, it's not too late to try to prove it on Fox's long-running dance-focused reality competition series. Fox announced today that So You Think You Can Dance has been renewed for a Season 10, and they're wasting no time seeking out the next crop of dancers.
So You Think You Can Dance is a competition that features young dancers from across the country (and sometimes across the world) as they show off their moves, demonstrating their training and attempting to cross over into other dance styles. Those who make it through the audition process and onto the big stage will be paired up and set to perform various routines arranged by some fantastic choreographers.
Fox's announcement doesn't include confirmation that Cat Deeley will return as host or that Nigel Lythgoe and Mary Murphy are on board to serve as judges once again, but hopefully they'll all be back. In the meantime, the network did release the audition schedule, which has try-outs kicking off in Austin next month, though the venue for the auditions has yet to be determined.
Below is the current information for So You Think You Can Dance's Season 10 auditions and further down is the eligibility information.