Spartacus: Gods Of The Arena Attacks DVD This September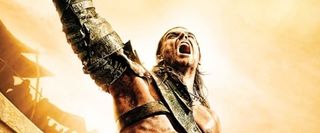 Anchor Bay Entertainment has finally revealed the full details for the upcoming Blu-ray and DVD release of Spartacus: Gods of the Arena, and it looks to be following in the footsteps of its precursor series, Blood and Sand, with plenty of cool bonus features. In fact, for all you early adopters out there, the Blu-ray Gods of the Arena set will include a 3D bonus feature looking at one of the battle sequences. That's right, 3D: the technology that never asks "Should we?" but only "Can we?"
Fortunately, those of us without a 3D setup or the genetic predisposition to give a shit about 3D will still find plenty of content to keep us entertained. Here's the rundown:
Blu-ray and DVD bonus features include:
STARZ Studios: GODS OF THE ARENA
Weapons of Mass Disruption
Battle Royale: Anatomy of a Scene
On Set With Lucy Lawless
10 Easy Steps to Dismemberment
Post Production: The Final Execution
Enter the Arena: Production Design
Dressed to Kill
Convention Panel
Arena Bloopers
Exclusive Blu-ray bonus features include
3D "Ring of Fire" Battle Sequence
Extended Episodes
Audio Commentaries on All Episodes (including: Writer/Creator/Executive Producer Steven S. DeKnight, Executive Producer Rob Tapert and actors John Hannah, Lucy Lawless, Dustin Clare, Jaime Murray, Peter Mensah -- and more)
I'm particularly glad to see they're including multiple audio commentaries, as they were one of the highlights of the Blood and Sand set (worth a purchase for the "ladle story" alone). You'll be able to grab a Blu-ray copy of the set for $49.99 or the DVD for $39.98. That might seem steep for a six-episode series, but the quality and the bonus features make it more worthwhile. (Plus, you can preorder both versions on Amazon right now for half the list price.)
Spartacus: Gods of the Arena serves as a prequel to Blood and Sand, taking a look at the gladiatorial school of Batiatus in the months leading up to the catalytic arrival of Spartacus. Fans of B&S will find plenty to love here: more betrayal, more intrigue, and lots more decapitations. Even better, more of two of the best parts of Blood and Sand: John Hannah as Batiatus and Lucy Lawless as his duplicitous wife, Lucretia. With a new season of Spartacus coming our way in 2012, this is the perfect time to check out Gods of the Arena if you haven't already.
Image 1 of 7
Your Daily Blend of Entertainment News