Spartacus' Manu Bennett Joins Arrow For A Big Role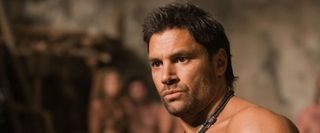 If there's a silver lining to Spartacus: War of the Damned being the last season of Starz's fantastic drama, it's that the show's conclusion should free up the schedules of its cast and allow them to pursue other projects. For Manu Bennett, "other projects" includes a role on The CW's Arrow.
EW posted the news, stating that Bennett is set to play the role of Slade Wilson in Arrow. At this point, there's no word on whether Slade will go on to become the villainous Deathstroke during his arc on the series as he does in the comics. From what the site reports, he'll be introduced in flashbacks as Slade and Stephen Amell's Oliver Queen form an uneasy alliance on the island of Lian Yu. Beyond that, fans will have to watch to see where his story goes.
Fans of the comics may have a better idea of what to expect from the character. As a fan of Starz' Spartacus and of Bennett, I'd consider this a great bit of casting news. In the Starz drama, Bennett plays the strong but often silent ally to Spartacus, Crixus, who has proven to be an important part of Spartacus' army, despite their initial rivalry in the series' first season. As a fan of Crixus, who has proven to be as passionate in his love for Naevia as he is loyal and strong, I don't love the idea of Bennett playing a character that sounds like a villain (or on his way toward that), but at the same time, it's not difficult to picture him in a role like that. And after years of training for his role in Spartacus, he should in pretty good shape to play Slade Wilson, who from what I understand, is a pretty big guy.
No word on exactly when his episodes will air, but Bennett is committed to appearing in multiple episodes.
For another look at Manu Bennett, you can catch a glimpse of him with his battle face on in the new Spartacus: War of the Damned poster.