Spike Renews American Digger And Auction Hunters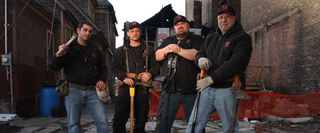 Spike may no longer be "the first network for men," but the channel is still synonymous with WWE programming, cartoon reruns, and a little CSI dropped into the lineup here and there. It's easy to remember the network crushes with the male 18-49 demographic, but it is more difficult to remember Spike actually has some unscripted original programming that does well, too. Now, two of these shows have been renewed for the upcoming television season.
Veteran reality show Auction Hunters has earned a fourth season on the network, after averaging 1.9 million viewers an episode in Season 3. According to Deadline, viewers will get to follow Allen Haff and Tom Jones as they buy up storage units for a whopping 26 episodes next season. American Digger, which does a little less well in the ratings, nonetheless earned 13 episodes for its second season, so if you enjoy dudes literally digging for treasure, you will get another chance to tune in.
Production on the upcoming cycles of the two shows is just getting underway, so don't expect to find anything but reruns in Spike's lineup until midseason. Really though, despite the two shows being blatant knockoffs of other historical artifact-based reality programs, both programs are boosted by the fact they get a midseason premiere and play back-to-back on Wednesdays. Spike may not have the best hand when it comes to reality programming, but the network does really well with what it has been dealt.
Your Daily Blend of Entertainment News
Thank you for signing up to CinemaBlend. You will receive a verification email shortly.
There was a problem. Please refresh the page and try again.