Striking TV Writers Strike Web Series Deal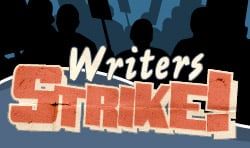 With no end to the Writer's Strike in sight, picketing TV scribes are looking to the Web to find work. A trio of TV writers — Chris DeLuca, Dominic Dierkes and Jonathan Gabrus — just landed a deal with digital media studio WorldWide Biggies to produce a Web sketch comedy series called The Void. Reuters reports that the writers signed a revenue-sharing agreement with the studio, headed by former Nickelodeon president Albie Hecht. Hecht told Reuters that The Void will be similar in tone to the 1977 comedy Kentucky Fried Movie.
Kentucky Fried Movie? Really? I don't think we need a low-budget Web series full of "zany" sketches and crude humor. The Web's already full of that stuff. I'm a skeptic, but lets hope they deliver something original. Lets also hope that the strike will signal a boon for quality online content.
This new deal comes after the news that former Newscorp exec Ross Levinsohn said he might fund striking writers through a new media company he formed with former AOL CEO Jonathan Miller, Reuters reports. That makes three big media vets possibly looking to give striking writers new media residuals and a new creative venue. This trend might signal a small victory for the writers (at least they're working), but viewers are still losing out with network schedules being filled by reality shows, reruns and shortened seasons of scripted shows like Lost.
DeLuca has written for a few late night talk shows, including The Late Late Show With Craig Ferguson and Saturday Night Live. Gabrus and Dierkes have written for Spike TV and MTV
Your Daily Blend of Entertainment News
Thank you for signing up to CinemaBlend. You will receive a verification email shortly.
There was a problem. Please refresh the page and try again.