Survivor Host Jeff Probst Lands Daytime CBS Talk Show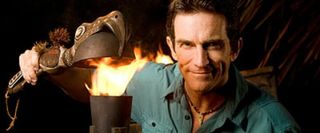 If I were to tell you that a three-time Emmy winner was getting a brand new talk show, who would come to mind? I know that the last guy to come to my mind is in the fact the very man CBS hired for the job: Mr. Jeff "The Tribe Has Spoken" Probst. Yes, he is a three-time Emmy-winning reality TV emcee (how prestigious!) and he's bringing all that cache with him to daytime television.
Okay, I know it sounds like I'm mocking the guy (and to some extent I definitely am), but I've always been a fan...and by "always" I mean "the two or three seasons of Survivor that I watched back in the day." He was a great host and can probably parlay that pretty easily to the day-time circuit. He's done so before, filling in for Live with Regis and Kelly, as well as Larry King Live.
EW broke the news and also caught up with the man himself:
With Oprah out of the picture, everyone seems to be scrambling to find the next big daytime show, and it sounds as though Probst's new venture will be similar in content and tone but also help bring in the male demographic. There also the question of whether the emcee will continue his duties on Survivor or hand in his torch. I'd say it's about time for the series to call it quits, but hey, that's just me. (What is it now, Survivor season 23? 24? Ugh.)
Your Daily Blend of Entertainment News
Thank you for signing up to CinemaBlend. You will receive a verification email shortly.
There was a problem. Please refresh the page and try again.