Syfy's Alphas Won't Return For Season 3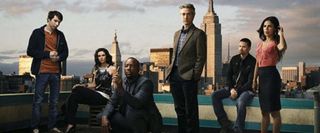 Syfy is saying goodbye to Alphas after two seasons on the air. It's already been several months since Season 2 wrapped in October, but word on the series' future has finally come down via Twitter, and it's not good. Turns out the Season 2 finale was in fact the series finale.
Alphas stars David Strathairn, Ryan Cartwright, Warren Christie, Azita Ghanizada, Lauren Mennell and Malik Yoba, and surrounds a group of people who have superhuman abilities either in strength or mental prowess. Called Alphas for their powers, a group of them is brought together in a team to investigate a murder and find more than they expected, including a powerful force behind the murder that turns out to involve Alphas. Ryan Cartwright tweeted the news in no uncertain terms today, stating "Unfortunately, Alphas is cancelled." Azita Ghanizada also posted the news on her Twitter feed, adding that it was "an honor" to play the role of Rachel as well as to work with "the most amazing people ever."
Alphas' cancellation comes on the heels of the news today that Syfy is finalizing a deal to bring a new dark thriller from Battlestar Galactica's Ron Moore called Helix which would go straight to series, bypassing the pilot stage altogether. Syfy has a few other new series on tap in the near future as well, including the new alien-centered drama Defiance. So while it's bad news for Alphas fans, it looks like there are some promising new shows ahead for Syfy viewers to look forward to.
Your Daily Blend of Entertainment News
Your Daily Blend of Entertainment News
Thank you for signing up to CinemaBlend. You will receive a verification email shortly.
There was a problem. Please refresh the page and try again.